BARBECUED SHRIMP
2 servings
12 Shrimp 16/20 size, peeled and deveined
Herb Seasoning* (recipe below)
2 TB Olive Oil
2 tsp Garlic, minced
2 TB Shallots, chopped
2 tsp Worcestershire Sauce
2 TB Lime Juice, freshly squeezed
3 TB Butter, Unsalted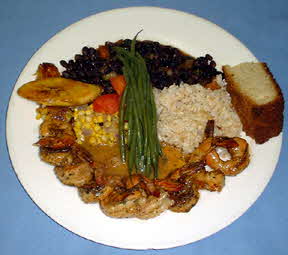 First, read these instructions carefully before you start, as you must work quickly. The whole process from when you place the shrimp in the pan until you remove them should only take about 3 - 5 minutes. It is best to have everything measured out before starting.
BE CAREFUL OF SPLATTERING, ESPECIALLY WHEN ADDING LIQUIDS.
To begin, make the Herb Seasoning Mix: See Recipe Below

Next, peel and devein shrimp

Dust shrimp with the herb seasoning - lightly or heavy if you like it spicy.

Place olive oil in a sauté pan and turn heat on HIGH - When pan is very hot, place the shrimp in pan quickly but carefully.

Quickly add the Garlic and Shallots, holding pan handle, toss ingredients together

Carefully add Worcestershire and Lime Juice - Toss ingredients together -
Shrimp should be almost done within about 2 - 3 minutes.

Turn off heat and add Butter - Toss in pan until butter is incorporated into a sauce.

Serve over hot rice.

*HERB SEASONING RECIPE
2 TB Thyme
4 TB Basil
1¼ TB Black Pepper
1 tsp Cayenne Pepper
3 TB Paprika
Combine all and mix well.
Classic Seafood Recipes & Fish Recipes
KEY WEST SEAFOOD RECIPES: KEY WEST, FLORIDA
Please feel free to link to any pages of SeafoodFish.com from your website.
For permission to use any of this content please E-mail: james@seafoodfish.com
Original material copyright © 1990 - 2017 James T. Ehler unless otherwise noted.
All rights reserved. You may copy and use portions of this website for non-commercial, personal use only.
Any other use of these materials without prior written authorization is not very nice and violates the copyright.
Please take the time to request permission.